These are audio related posts. Archive for 2016.
I'm about to pull the trigger on some way too expensive bluetooth headphones, and during my research I came across these two articles that are worth a read if you care about bluetooth audio:
Headphones or earbuds that support the latest bluetooth audio options link the volume changes made on the headphones and computer/phone, will show a battery indicator on your iPhone, can do calls using reasonable audio quality (16 kHz, old ones use creaky phone quality at 8 kHz).
And last but not least, can accept AAC audio. With that, there's no difference in quality between wired and wireless playback of AAC-encoded music such as iTunes+ songs. Unfortunately, only a few headphones support AAC over bluetooth, and many don't bother to mention this on their website... (You can check on your Mac by alt/option-clicking the bluetooth icon in the menu bar.)
Permalink
- posted 2016-02-13
At the introduction of the iPhone 7, Phil Schiller explained the removal of the 3.5 mm headphone jack as follows:
Maintaining an ancient, single-purpose, analog connector doesn't make sense because that space is at a premium.
This makes sense at first blush, but then how is it that until a week ago, all iPhones and iPods had a 3.5 mm headphone jack. Every single one of those except for the iPhone 6s and 6s+ are smaller than the iPhone 7. The iPod nano has only 9% of the volume of the iPhone 7+: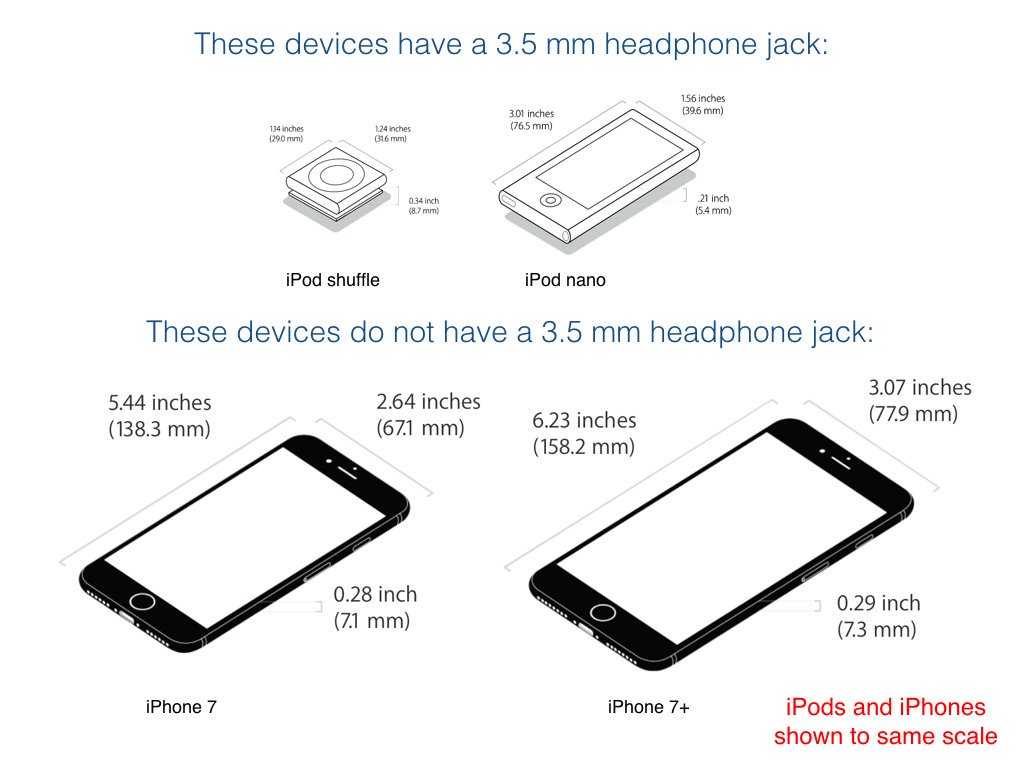 But somehow, Apple found room in there for the 3.5 mm jack. Even if there were no room for the jack in the iPhone 7, they could have made the device a few percent bigger to make room. Or at least keep it on the much bigger iPhone 7+.
The simple truth is that Apple solved their problem by making it our problem. Just carry the extra adapter. Or two different headphones, one for the the iPhone and one for everything else (including your Mac). Or use bluetooth and hope you don't run out of power unexpectedly.
Permalink
- posted 2016-09-11