► It's insane. I already spent nearly 800 euros on bluetooth headphones this year. And then Apple released the Airpods Pro, costing € 279 here in the Netherlands. And I couldn't help myself and bought a pair. So let's see how they compare...
Full article / permalink
- posted 2019-11-26
So with all the technical details out of the way in part 1, let's have a look at where to get 4K content and whether it's worth the trouble and the expense. Where I've found 4K content...
Read the article - posted 2019-08-26
Although it says "4K TV", as far as I know, there's (virtually) no actual TV broadcast in 4K, so what I'm really talking about here is the state of home theater technology as of around 2018. This post is about the hardware and the formats. Part 2 will be about 4K content and whether the 4K thing is worth the money.
Read the article - posted 2019-08-22
At the introduction of the iPhone 7, Phil Schiller explained the removal of the 3.5 mm headphone jack as follows:
Maintaining an ancient, single-purpose, analog connector doesn't make sense because that space is at a premium.
This makes sense at first blush, but then how is it that until a week ago, all iPhones and iPods had a 3.5 mm headphone jack. Every single one of those except for the iPhone 6s and 6s+ are smaller than the iPhone 7. The iPod nano has only 9% of the volume of the iPhone 7+: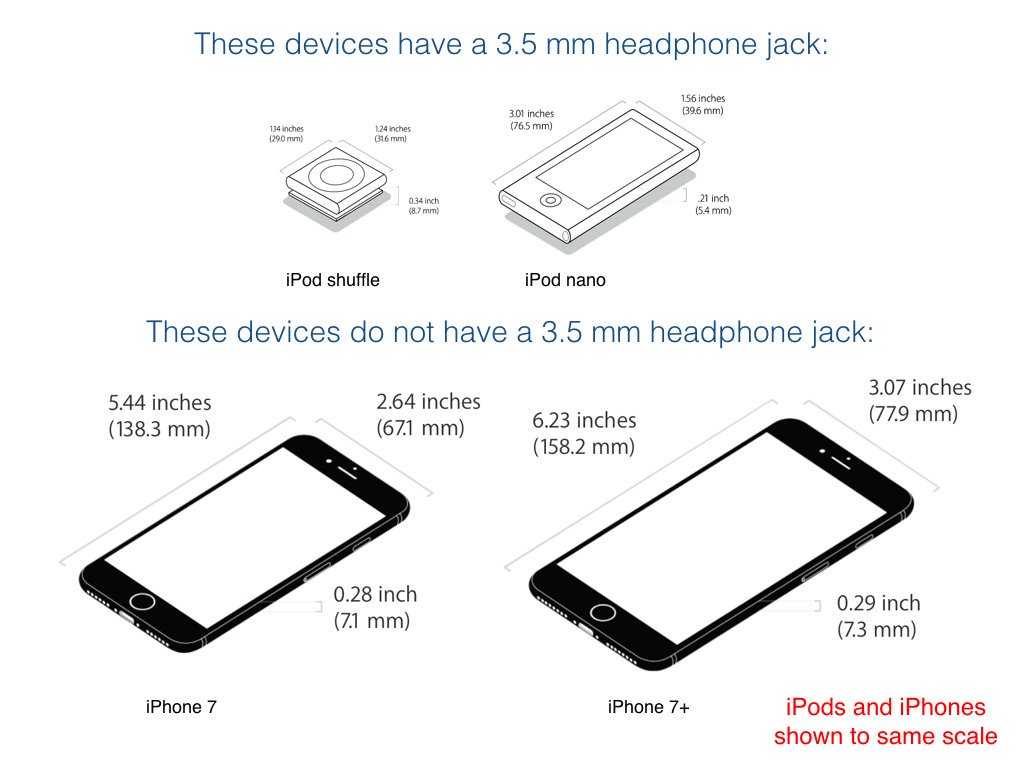 But somehow, Apple found room in there for the 3.5 mm jack. Even if there were no room for the jack in the iPhone 7, they could have made the device a few percent bigger to make room. Or at least keep it on the much bigger iPhone 7+.
The simple truth is that Apple solved their problem by making it our problem. Just carry the extra adapter. Or two different headphones, one for the the iPhone and one for everything else (including your Mac). Or use bluetooth and hope you don't run out of power unexpectedly.
Permalink
- posted 2016-09-11
I'm about to pull the trigger on some way too expensive bluetooth headphones, and during my research I came across these two articles that are worth a read if you care about bluetooth audio:
Headphones or earbuds that support the latest bluetooth audio options link the volume changes made on the headphones and computer/phone, will show a battery indicator on your iPhone, can do calls using reasonable audio quality (16 kHz, old ones use creaky phone quality at 8 kHz).
And last but not least, can accept AAC audio. With that, there's no difference in quality between wired and wireless playback of AAC-encoded music such as iTunes+ songs. Unfortunately, only a few headphones support AAC over bluetooth, and many don't bother to mention this on their website... (You can check on your Mac by alt/option-clicking the bluetooth icon in the menu bar.)
Permalink
- posted 2016-02-13
Dit zijn vier geluidsopnamen van trams die over de Loosduinseweg richting centrum rijden over de route van lijn 2 / 4 en daarbij de route van 12 over de Paul Krugerlaan - Regentesselaan kruisen. Dat geeft nogal wat gerammel, leek me dus aardig de verschillende trams waarmee de HTM rijdt te vergelijken:
RegioCitadis: de Randstadrail-trams
Avenio: de nieuwe brede trams die sinds kort op lijn 2 rijden
GTL (Gelede Tram Lang), de rood/beige trams waarmee HTM sinds de jaren '80 rijdt
De opnames (één tram twee keer om het wat moeilijker te maken!):
Tram 1:

Tram 2:

Tram 3:

Tram 4:
Laat me via Twitter of het HaagsOVforum weten welke opname je denkt dat bij welke tram hoort...
Permalink
- posted 2016-02-06